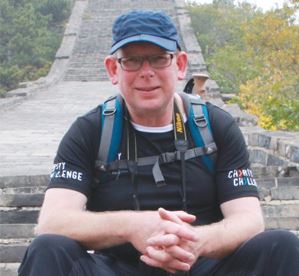 Tim Lovatt of Park Cliffe, who is aged 56, joined a five-day trek organised by Pancreatic Cancer UK along a switchback stretch of the Great Wall of China.
Friends, family and local sponsors all pledged contributions for Tim's bid which he funded himself.
And thanks to Tim, park director Susan Dickson hopes that the business will now be able to make a sizeable contribution to Pancreatic Cancer UK by the end of the year.
The charity was adopted by Park Cliffe as its fundraising cause for 2016 in memory of Susan's father Frank Holgate who died from the disease in January last year.
Frank was a pioneer of holiday parks in the Lake District, and his original business – Silverdale Park – is marked its 60th anniversary last year.
Tim and his wife Arlene have worked as managers at Park Cliffe for 13 years, and both are popular figures with holiday guests, many of whom are regular visitors.
They also help organise many of the other fundraising initiatives which take place on the park each year, including celebration nights, wine tastings, a duck race, and other special events.
Tim said the trek was tough in parts, but that there was a great spirit of camaraderie among the 20-strong group which encouraged everyone to press on.
He was congratulated by Susan and her husband Derek on his return, and Tim has hopes that the £2,000 already raised will be added to by other donations.
Not that Tim is any stranger to adventure, for a few years ago he scaled Mount Kilimanjaro – Africa's highest peak – to bring back thousands of pounds for local good causes.
'I think it's fair to say that Tim goes the extra mile in everything he does, and he and Arlene are definitely the powerhouse behind our fundraising,' said Susan.
'Pancreatic cancer is the fifth biggest killer with a very low survival rate of just four percent, so we're grateful to everyone who has supported this very worthy cause,' she added.
Park Cliffe, based on the shores of Windermere, was the overall gold winner in the 2016 Cumbria Tourism Awards for Excellence.
More information about Park Cliffe is available at www.parkcliffe.co.uk.