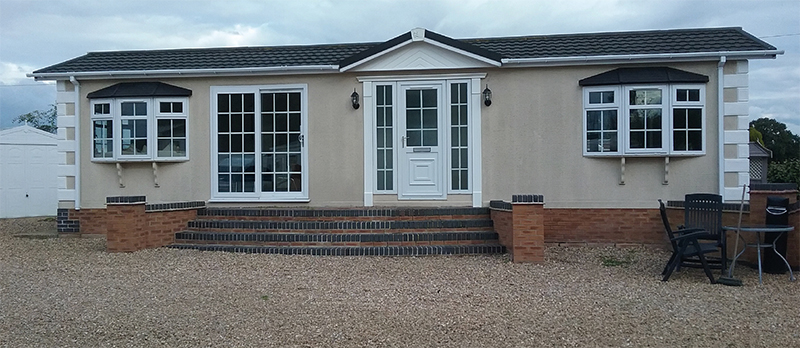 After almost four years, park home residents' rights campaigner, Sonia McColl OBE, has seen two men convicted of stealing her home…
An itinerant fairground worker and a haulage yard employee have been found guilty of the theft of a park home belonging to the UK's pre-eminent industry activist.
Stewart Gregory, 43, of Surrey, and Darren Baseley, 47, of Devon, made off with the home of Park Home Owners' Justice Campaign founder, Sonia McColl OBE, at a Devon haulage yard in 2017 while it was undergoing work.
'didn't know she had an obe'
Gregory stole Sonia's park home with the help of Baseley, who worked at the haulage yard. Gregory denied theft but was found guilty by a jury at Exeter Crown Court. Baseley, 47, from Devon, previously admitted theft.
Gregory, of Aldershot Road, Normandy, stole the home in early November 2017 after he was sub-contracted by TS Haulage, based at Willand, near Cullompton.
It was due to be moved from Warwickshire to Sonia's daughter's home in near Barnstaple, to act as a granny annexe.
Baseley, of Henrys Run, Cranbrook, near Exeter, was recorded last year discussing the theft, the court was told. In the call, he said he had thought it was just a 'caravan and an old biddy', adding: 'I didn't know she had an OBE and some weight behind her.'
Baseley was also found not guilty of blackmail. Recorder Mr Benjamin Newton adjourned sentencing for both men until 2 July and ordered pre-sentence reports.
LEFT HOMELESS
A heartbroken Sonia, 72, who also founded Park-HELP-Line, was then left homeless after the theft. She told PH&HC: 'At last, after almost four years of suffering, homelessness, a lot of stress, anxiety, insults, defamation of character and having to fight every step of the way, I have got justice.
'I will be there and will read out my Impact statement before sentencing, and I can't wait to see their wicked evil faces in the dock.
'This has been such a long road, but made so much easier by my amazing family, friends and so many wonderful park home residents.
'Special thanks must go to my good friend Tony Turner for his unstinting daily support. Sebastian O'Kelly, Sir Peter Bottomley MP, and all at Leasehold Knowledge Partnership (LKP), The Westminster Circle, Justice Minister Robert Buckland MP, Richard Drax MP, Detective Kirsty Wilson, Paul Baker and all at Paul Baker Insurance, Park Home and Holiday Caravan magazine and, last but not least, the late Lord Graham of Edmonton.
'Although I admit to being very tired, I hope this verdict sends a clear message to anyone who might attempt to damage/hurt a park home resident. More importantly I hope this verdict will go some way to help any resident faced with similar problems. Just dig your heels in, fight and refuse to allow anybody to blight your life. I was frightened and it was difficult but I refused to listen to threats about giving up the Justice Campaign and together we have now all achieved the review of the ten per cent Commission Charge and RPI to CPI has been promised. Basically, we legally stopped sale blocking and have achieved everything we set out to achieve. I hope that you are all justifiably proud of yourselves.
'I will keep attending the All Party Parliamentary Group (APPG) for Park Homes, run Park-HELP-Line and inform you all of our campaigns but I hope you will understand that I need a little rest and relaxation.Once again my very sincere thanks for your support – and onwards and upwards.'
SUCCESSFUL CAMAPIGNER
Sonia McColl is the UK's best known park home residents' campaigner. In 2014, she earned an OBE for her crusading work as founder of the Park Home Owners' Justice Campaign, which helped change some of the laws surrounding our sector.