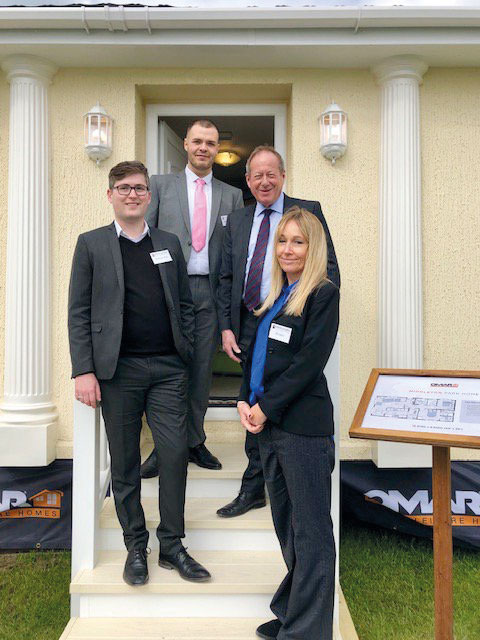 After more than a quarter of a century spent helping Berkeleyparks' deliver excellence to its customers, Paul Tarr (pictured centre right) has retired.
The affable sales and marketing director, who had clocked up an impressive 26 years of service, left the role in July.
Paul, 65, intends to take the rest of 2019 off, appraising his options and deciding whether or not to stay fully retired.
He has some foreign travel planned and would like to spend more time with his grown-up children.
Paul said: 'It has been a privilege and an honour to work for Berkeleyparks for such a long period of time.
'It's been a wonderful experience.'
Managing director, David Curson, added: 'Paul will be retiring from The Berkeley Leisure Group after 26 years of loyal and successful service at the end of July.
'Paul has worked tirelessly, ensuring that the high standard of the group's 50 parks has been maintained.
'His years at the company have seen substantial change to the design of homes and he has also helped steer the company through various legislative changes.
Over the years his primary role has been in sales and marketing for the company and he was awarded a directorship in 2004.
'The company would like to wish Paul a long and happy retirement.'
Berkeleyparks has been developing park home living since 1955, and currently boasts 50 parks up and down the country, making the site operator the UK's second largest.
Berkeleyparks has residential parks in 21 counties of England and Wales, giving prospective park home purchasers a real choice of places to live from the Lake District up in Cumbria to the rugged coastal panoramas of Cornwall in the south-west.
Most of its sites are for those aged 50 and above and include homes from all the nation's leading manufacturers, meaning residents enjoy a relaxed way of life in a luxurious environment.
For more information on Berkeleyparks, please call the company on 01935 862 079, email sales@berkeleyparks.co.uk or visit the website at www.berkeleyparks.co.uk.