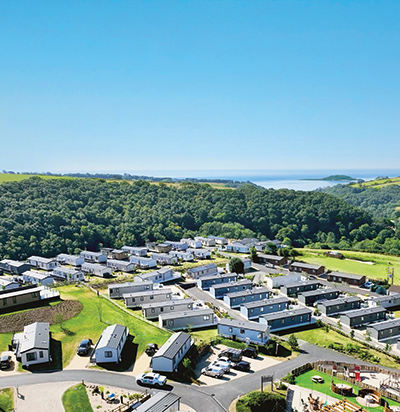 Richard Webber travels to Cornwall to enjoy a short break at Tregoad Holiday Park – the newest addition to the Waterside Holidays portfolio…
Being regular visitors to holiday and lodge parks around the UK, my family and I often discuss such subjects as best lodge we've stayed in, best on-site facilities, best restaurant and so on. Usually, these discussions take place on cold, wet evenings when we want to recall happier, sunnier times.
Well, a recent visit led to another category being added to our list: best-kept holiday park. That accolade, without a doubt, goes to Tregoad Holiday Park. Nestled in a tranquil Cornish valley a few miles from the picturesque coastal town of Looe, it's the newest arrival in the Waterside Holiday Group's portfolio.
Two years ago, Tregoad won the accolade for Cornwall's Holiday Park of the Year – and it's easy to see why. The site's overall upkeep must have been among the considerations in the decision-making process and it wouldn't have surprised me if the park won that category hands down.
During our stay, we were impressed by every flower bed being meticulously weeded, grass neatly trimmed and everywhere litter-free. But, of course, it wasn't just the attention to detail which rendered this park so attractive, the views in every direction played their part, too. In fact, with the park being built on a sloping plot, there wasn't a lodge void of a view.
Family values
Waterside Holiday Group, a family-run company, acquired this former touring and camping park in 2020 and within two years 160 units stood on the site, around 20 inherited from the previous owners.
The company's brochure extols the virtues of renting or even owning a lodge in this part of the world. "From picturesque Cornish fishing villages and coveted coves to historic local landmarks just a short drive inland, Tregoad is the perfect base from which to explore one of the country's most popular holiday and adventure destinations." And we were excited about doing just that.
We stayed in a stylish two-bedroom Infinity Lodge, manufactured by Hull-based Sunseeker Holiday Homes. It boasts a unique roof design combining a mono pitch at the front and dual pitch to the rear. Other striking features included the dual aspect patio doors opening onto an amply-sized, glass-fronted wrap-around sun deck which provided every opportunity to catch the sun's rays. The sunken hot tub was a welcome addition, too, and we made full use of it after busy days sightseeing.
The interior comprised one double bedroom with en-suite shower room plus a twin bedroom. The Scandinavian-styled kitchen, meanwhile, came with high-end modern appliances and fittings.
In terms of space, we felt the Infinity wasn't helped by one feature: the vertical centre console with the feature fire and TV unit. It prevented one from seeing out through the patio doors if sat at the kitchen table, although it does make for a contemporary feature.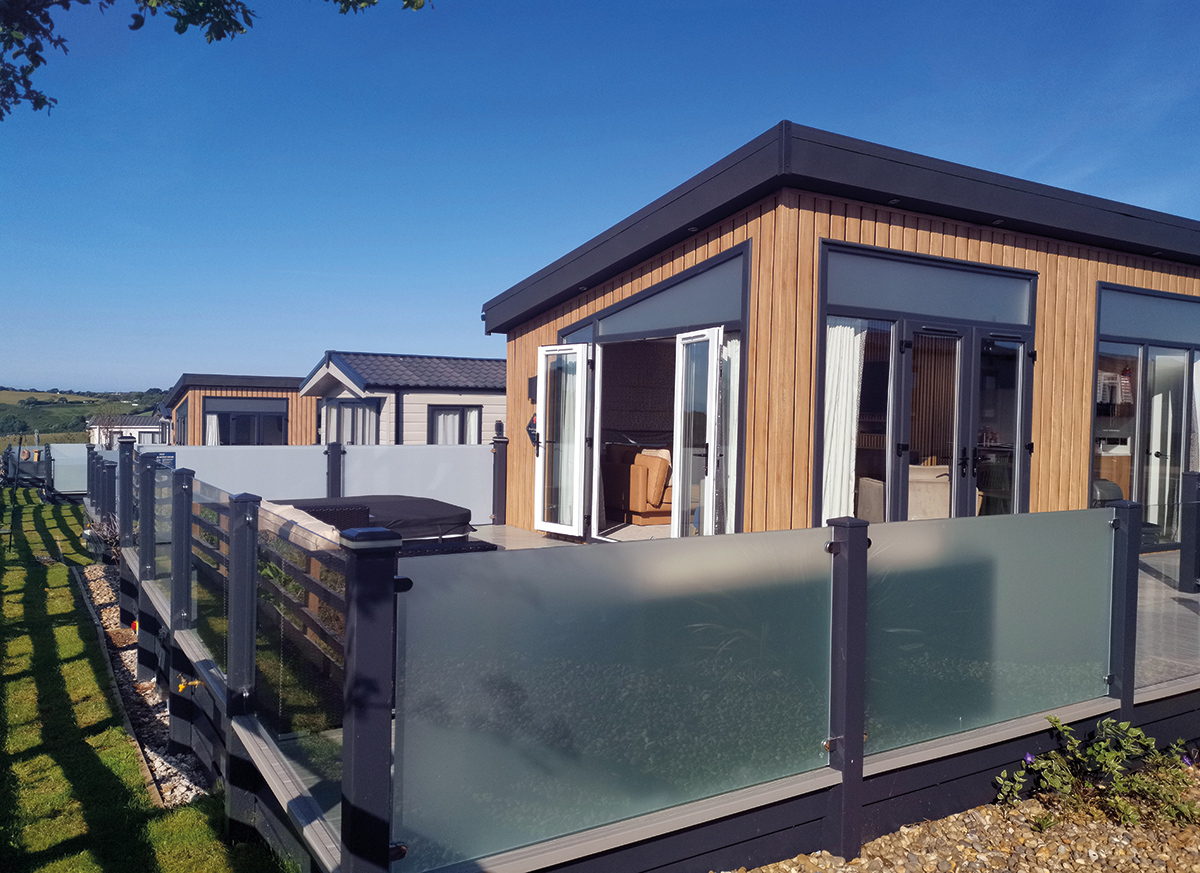 Several manufacturers
But Sunseeker is just one of several manufacturers whose lodges have been introduced to Tregoad. One morning, I wandered around the park and spotted, among others, a Willerby Brookwood, Victory Lakewood, Carnaby Glenmoor and an ABI Oakley.
Facilities at Tregoad, meanwhile, include an attractive restaurant with outside dining area, children's play area and an indoor swimming pool which, by 2024, will be replaced by a new £2 million pool. The company also organise regular activites for children, including Segways and Sea Scooters, which Hollie and Peter particularly enjoyed.
Although it would be easy spending one's entire break at the park, located amid the beautiful countryside, it's just a few minutes from Looe, a quintessential Cornish fishing town and definitely worth exploring. With a regular bus service stopping at the park, you don't even have to take your car; and if you're a holiday home or lodge owner, you get free bus travel to Looe and nerby Polperro.
Looe, just 45 minutes from Plymouth, is a quaint town with narrow cobbled streets, little white cottages squeezed into, seemingly, every corner and an historic harbour. Attractions in the town, which gets busy in high season, include plenty of independent shops and cosy cafés, including The Lookout, situated harbourside.
If you want to learn more about Looe's history, visit the Old Guildhall Museum and Gaol, run by very informative volunteer staff, and check out the various displays.
Other must-dos include travelling along the coast a few miles to visit the likes of Seaton, Downderry and Portwrinkle. But don't leave the area without booking a 15-minute boat trip with Looe Sea Safari to Looe Island, just a short distance from the shore. The numbers allowed to visit the isle each day are limited and just one boat company is permitted to ferry visitors to its shore.
Of course, it's not always possible to see everything in one trip which explains why the park enjoys its fair share of repeat visitors; and for those who fall in love with the area – as well as Tregoad, of course – there is always the option of buying one's own holiday lodge.
New holiday homes
A range of new holiday homes, lodges and pre-loved units are available from just £49,995. Homeowners can earn income by letting out their holiday home/lodges via the company who charge 20 per cent plus VAT for every booking secured.
But the Waterside Holiday Group isn't a company to rest on its laurels and work is already underway to expand Tregoad. Samphire Cove, when complete, will be an exclusive gated luxury lodge development consisting of 12 lodges. With additional units added nearby, Tregoad will eventually comprise 200 units.
On our last morning in Cornwall, Matt – the park's general manager – took us on a tour of the Cove where the luxury bespoke lodges available at that point included a stunning three-bedroom, six-berth Aspire Santorini, selling for £335,000, and a three-bedroom, six-berth Aspire Catalonia for £325,000. On order were several two-bedroom Santorinis plus six-berth ABI Westwood and Willerby Vogue lodges.
It was clear from talking to Matt that supporting wildlife and the environment is at the forefront of the development plans, explaining the swathes of white daisies and other wildflowers carpeting the banks surrounding Samphire Cove – which is a £1.6 million development – plus beehives dotted around the park.
Only natural
The company's efforts have been rewarded, too. In 2022, Tregoad received a silver Wildlife Friendly Tourism Business Award. Now the team is looking to improve on the silver award with further development of the onsite lake – already a haven for wildlife – on the cards in the shape of a new two and a half-mile wildlife walk which will be ready by Spring 2024.
It was a pleasure visiting Tregoad Holiday Park and is somewhere we would definitely enjoy visiting again.
For more information about Tregoad Holiday Park, go to www.watersideholidaygroup.co.uk
---
To read the full feature, pick up your copy of PH&HL's October issue