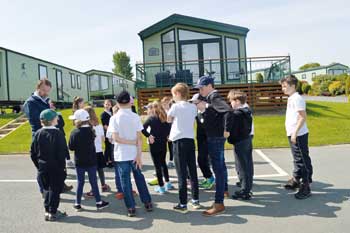 Keen to help in their local community, the owners of Seven Oaks Holiday Home Park, on the Welsh borders, recently invited children and teachers from the local primary school to pay a visit during Wales Tourism Week.
Pupils of Brynhafren Primary School, Crew Green, between Welshpool and Shrewsbury, spent the morning at Seven Oaks Holiday Home Park where they were given a guided tour before enjoying a picnic.
The 119-pitch park is owned by caravan and motorhome dealership Salop Leisure and the company's managing director Mark Bebb and marketing manager Ed Glover joined park managers Ron and Margaret Brace in welcoming the school party.
Mr Bebb explained, "Tourism is one of the major employment sectors in Wales and it's absolutely vital that we engage with young people and make them aware of the exciting career opportunities that are available within the industry. It was great to welcome a group of such inquisitive and well behaved young people to the park during Wales Tourism Week."
Brynhafren Pirmary School's acting headteacher Sam Rees commented, "It has been a fantastic experience for the children in such beautiful surroundings. It would be nice to come back to the park to see how it looks through the different seasons."