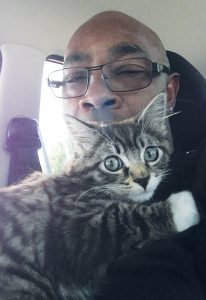 Clarence Oddman is just 52 years old and moved to Oaks Park, in Dorking, Surrey several months ago. "I absolutely love it and wish I'd done it sooner", he told us.
This is the start of a new beginning for Clarence who has lived much of his life in the fast lane and has experienced some traumas on the way. It's time to bask in tranquility, have a change of pace and appreciate the simpler things in life.
Since a young boy, Clarence was excited by park homes whether he saw them at the seaside or in the country. He vowed one day he would be in one.
Now single and with his flat sold Clarence was keen to live nearer his family in Surrey and when his park home at Oaks Park came up he jumped at the chance.
The pleasing décor of the home required no attention but Clarence wanted to be sure of the condition of the chassis and underside of the home due to its importance to the whole structure of the home and called Park Home Chassis Services (PHCS).
Clarence said: "PHCS's director Dave was so helpful and polite. He installed me with total confidence and peace of mind that all is well under the home for the foreseeable future".
Clarence also had the PHCS SnuggerFLOOR under floor insulation installed to keep the floors warm and the home to retain heat. " I did this as preparation for the future", he added.
See November 2017 issue for the full article.
For further information on Park Home Chassis Services Ltd, please call 0333 456 3056 or 0118 984 3107. Alternatively, email info@parkhomechassis.co.uk or visit www.parkhomechassis.co.uk