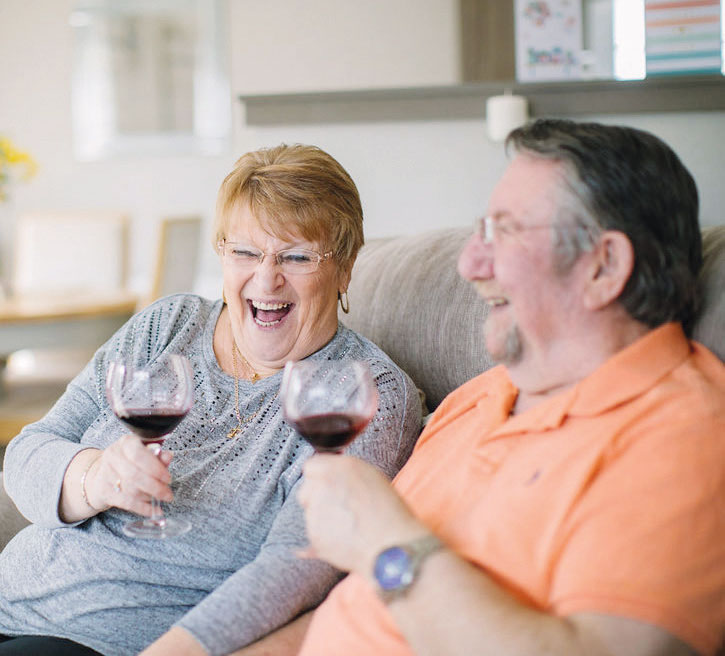 New park home residents Issy and Nigel tell us what it was like buying, and moving into, their brand new home at Wickham Court, a modern gated development by RoyaleLife near Fareham, Hampshire…
When the house was ready we walked in and everything had been done for us,' explained Issy.
'The lighting we selected was in place, the curtains were up, all the beds made.
'I chose all colours and fabrics and it was just perfect when we arrived.
'All we brought for the home was our own favourite set of kitchen utensils. Having it all taken care of is what it's all about.'
POPULAR CHOICE
Their park home purchase was handled by the part exchange service of Quickmove Properties – a popular transaction choice that removes the worry and hassle of trying to sell an existing property on the open market.
Nigel explained why the part exchange option worked so well for them. He said: 'We found it so easy to complete a home exchange. You don't have to do anything – they come along to value your house, give you a price and if you agree to it then that's it. You sign on the dotted line and everything's done for you. The solicitors are sorted, the estate agents are sorted, everything's sorted and you just sit back and have no worries. I would recommend home exchange to anybody.'
HOW PART EXCHANGE WORKS
● Once you've found your dream park home, Quickmove will contact you to explain the process.
● If you're happy to proceed, Quickmove will instruct two independent estate agents to value your existing property and make you a formal offer within 48 hours of the response.
● On acceptance of the offer, Quickmove instructs solicitors and arrange for a survey to be completed. All associated costs are covered by Quickmove, meaning there are no upfront costs.
● You choose the completion date that suits your circumstances. You won't even need to vacate your existing property on completion day as Quickmove grants you a licence to occupy for two further weeks so you can move out at your leisure!
● Quickmove's experienced team, efficient processes and substantial cash reserves mean the offer process is quick and hassle-free with no obligation and no fees to pay.
100 per cent market value!
RoyaleLife developments are available nationwide and are unique in offering buyers full market value for their existing property. Quickmove then handles the whole transaction, enabling a hassle-free move with no estate agents, no solicitors fees and no stamp duty to pay.
Contact Quickmove for a no obligation proposal today!
---
info point
Contact Quickmove for information on part exchange and for information about Wickham Court, or other RoyaleLife developments in Devon, Dorset, Essex, Hampshire, Devon, Cornwall, Leicestershire, Norfolk and Kent.
T: 0800 328 2168
W: www.quickmoveproperties.co.uk/parks/royalelife