A quarter of those aged 50 to 61 are not financially prepared for retirement – a new report has revealed…

Research from RoyaleLife, one of the UK's leading park operators, has shown that a growing number of soon-to-be retirees have been left searching for alternative ways to fund their futures, commonly using equity release schemes as a quick fix to provide retirement cash, not understanding it could lead to financial woes.
The study entitled Bungalows – A resurgence in single storey living, which questioned 1,000 over-50s in Great Britain and Northern Ireland, has led to the nation's largest bungalow provider to highlight alternative schemes to help alleviate this growing crisis.
Robert Bull, CEO of RoyaleLife, commented: 'It comes as no surprise that the pandemic has played a huge part in this, with Covid-19 causing an employment crisis and a record number of people having been made redundant. With the ever-rising cost of living, many people are struggling to save enough because of multiple finance pressures, often prioritising caring, debt and mortgage repayments over saving.'
This echoes the statistics found in RoyaleLife's research, with those in the East and West Midlands topping the charts by admitting they were not financially prepared for retirement.
Those living in Nottingham were the least prepared in the country, closely followed by those in Birmingham, who ranked second.
LACK OF UNDERSTANDING
Robert continued: 'The report has also revealed that those aged 40-65 do not have confidence in their finances, and many don't understand how much they need to save to enjoy a comfortable retirement, often thinking schemes such as equity release are the easiest solution to free up cash quickly.
'Despite working well for some, there is a growing number of those who have experienced drawbacks, with many people finding themselves out of pocket, or worse, faced with a significant amount of interest that is more than the original value of their home.
'However, our innovative Home Part Exchange scheme has seen interest spike significantly since the pandemic, as it provides an excellent alternative for those reassessing their finances, while addressing the understandable concerns that come with other equity schemes.'
Such is the case for Garry Ford, who lives at RoyaleLife's Meadowlands Court development in Bude and opted for Home Part Exchange.
He said: 'My father bought our family home in 1956 and lived there for the rest of his life. He worked four jobs to keep a roof over our heads, eventually becoming mortgage free. We created many happy memories there.
'In the 1990s, my father decided to take out equity release to free up some cash and pay for some essential house repairs.
'Their home sold for £5,000 more than the asking price. Soon after, the equity company took 82% of the sale price and gave us five weeks to empty the house and leave. After legal fees, estate agent and maintenance fees, we were left with just £20,000, which we split between his four grandchildren. It felt like my father's legacy had been reduced to nothing."
---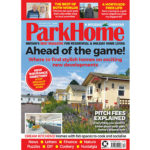 Read the full story in the December 2021 issue of Park Home & Holiday Caravan