Quickmove Properties helps people to find and purchase their new park homes in retirement hotspots, without the hassle or delays. We find out more…
If you're considering a park move in 2021 its worth browsing the new and improved brochure from Quickmove, featuring park homes for sale at modern, secure residential developments in outstanding locations. These luxury pet-friendly park bungalow developments are selected to offer peaceful, scenic and well-spaced residences in the country or by the coast, perfect for dog walkers and ramblers alike.
LEAVE IT TO QUICKMOVE
The property specialists at Quickmove can find a suitable park to meet your requirements and arrange 'virtual' or Covid-safe viewings on your behalf. So whether it's a coastal park, where every day feels like a seaside holiday, or a modern gated park with leisure facilities and active residents' clubs such as those by leading developer RoyaleLife, they'll find the right park for you. When you're ready to view in person or move you'll have all the information you need.
Quickmove can also make your move super-easy with their five-star-rated part-exchange service which takes away all the hassle of selling an existing property on the open market.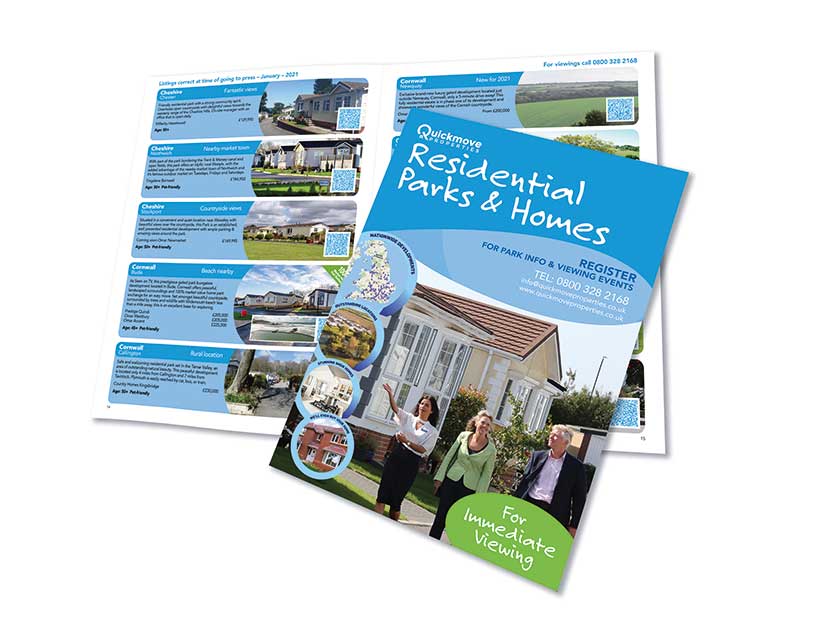 NEW FOR 2021 BROCHURE
Fast-track your park home search with a copy of the new and improved Residential Parks and Homes Brochure from Quickmove. It features luxury developments with homes for immediate viewing and occupation from their network of partner developments. Each listing even has a QR Code which links when scanned to more information, photos or video of the parks and homes on offer.
GET IN TOUCH
Request your brochure today by calling Quickmove on 0800 328 2168, email advice@quickmoveproperties.co.uk or visit www.quickmoveproperties.co.uk/park-bulletin