Gender roles have become a hot topic in the mainstream media of late, with single issue politics getting more of a hearing due to social media. At PH&HC, we prefer an easy going, 'live and let live' approach. Welcome to our guide to harmony in the home!
At PH&HC we are sure our readers will have noticed the way traditional, some might even say old-fashioned, female and male roles are being challenged in the media, and especially on TV. Sports fans will have noticed an increase in the coverage of female football and cricket teams, as well as more female television commentators and pundits.
Many of the most well-known newsreaders and political analysts on television are now women, not to mention the domination of female weather forecasters, most notably Carole Kirkwood, whose predictions of our national obsession have turned out to be every bit as accurate as those of John Kettley and Michael Fish!
Nonetheless, there are just some things that seem to naturally appeal more to one gender than another. So, this month, with tongue firmly in cheek, in association with Barton Group, we have some bright ideas that, while definitely open to all, might appeal more to park home and holiday caravan owners of the male persuasion!
THE WORLD OF SHEDS
Despite the growing trend for 'she sheds' – the good old garden shed has been a traditional bastion of masculinity – providing long-suffering husbands and partners with a refuge in which to escape soaps, kids and housework.
Sheds and cabins come in all shapes and sizes but, if your plot doesn't allow you the space you need, then consider getting in on the allotment scene – not only does it provide the welcome 'me time' but returning with a freshly picked salad or crop of fruit is sure to get a hero's welcome.
Every year, in August, the Cuprinol-sponsored 'Shed of the Year' competition puts sheds under the spotlight as the Amazing Spaces Shed of the Year competition hits TV screens.
It's a sort of light hearted, miniature Grand Designs. It's a great show and a fantastic source of ideas for your shed!
ALLOTMENTS
According to the Daily Telegraph: 'Allotments were introduced by philanthropic Victorians to provide a healthy diet and lifestyle for factory workers.
'These days, when their appeal has crossed the class divide, they offer the same benefits.
'To nurture a tiny seed until it becomes a plump pumpkin or parsnip fulfils a basic human instinct; digging the first new potato is better for body and soul than turning into one on a couch in front of the TV or laptop.'
The popularity of allotments tends to increase during times of economic downturn and decrease in times of prosperity. During WWII, even some of London's parks were cultivated to provide food. At the end of WWII, there were well over a million allotments across the UK. Now only 250,000 survive, and despite a huge waiting list, many councils are putting land previously used as allotments to other uses.
Often caricatured as a male-only domain, there is little doubt that fresh home-grown produce is enjoyed by everybody.
WOMEN AND MOTORS
There is now a popular Radio 4 programme called Women Talking About Cars. Victoria Coren-Mitchell presents the series in which famous women look at their lives from the perspective of the cars they have owned.
However, gazing longingly at classic cars, showing off detailed knowledge of long-gone models, remains a predominantly male pastime. The UK has a vast range of historical car collections from the Haynes collection in Yeovil, an hour's drive away from Barton's new Seascapes Park, in Somerset, to the British Motor Museum in Warwickshire.
Or, try the quirky Lakeland Motor Museum in the Lake District with its fascinating collection of over 30,000 exhibits that trace the development of road transport throughout the twentieth century – cycles, motorbikes, motor cars and automobilia.
Of course, there is the famous Beaulieu Motor Collection on the south coast. From the earliest motor carriages to classic family saloons, the world-famous National Motor Museum has one of the finest collections of cars, motorcycles and motoring memorabilia in the world. From legendary F1 cars and land speed record breakers for the speed freaks, to incredible examples of pioneering motoring for the history-buffs. It's a great family day out – especially for 'boys' of all ages!
---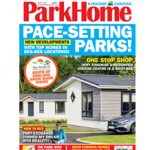 Read the full story in the April 2019 issue of Park Home & Holiday Caravan