Tingdene Homes have been quiet behind the scenes recently, but we're pleased to report that it's all for a good reason, as they have been implementing some positive changes throughout their business. We took time out with CEO Tom Courtney to find out what this meant before joining some of the team at the launch of their latest superlodge – The Viewpoint.
Tom explained; "We have been busy behind the scenes for the past 18 months and during this period we felt it better to focus closely on what matters to us most – our customers, service and the quality of our homes. That meant a look at our quality control processes, some re-organisation internally and a bit of fresh thinking.
Stoneleigh World of Park and Leisure Homes show kept us busy, and our order book reflects that. So we are now in a great
position to knuckle down and do what we do best – build inspirational park and leisure homes. The Viewpoint is a celebration
of that, and a bit of a marker in terms of Tingdene's intentions going forward, although there will always be models with appeal for all budgets and customers."
He continued; "Our park partner relationships are vital to us, large or small, longstanding or new, so we want to make sure everything runs smoothly both before and after our homes are delivered. One of the measures I've introduced is for our customer service team to be as accessible as possible in case there is an issue, but we have also tightened up our quality control process, and experienced senior management team members personally sign off every unit that leaves our premises. We want every unit to be built to an exacting standard we can be truly proud of. The company will always have an ethos of family values, and we have doubled-down on our sense of purpose and professionalism within our culture to bring it to the fore – there's real determination to do a great job, on time, and with little or no after-sales issues."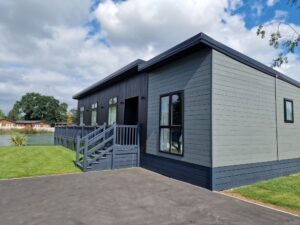 We joined Tom, Tingdene sales and marketing director Daniel Evans and Prestige Country Parks' general manager Sam Nichols in North Yorkshire recently in our day off between Harrogate trade and customer shows, and this ethos of
doing differently was already paying off as park owner Lawrence Knowles confirmed, commenting that this new approach works from a park and customer perspective, and that's why Prestige Parks had decided to choose Tingdene as a key supplier. Tingdene are now set to supply the majority of homes across the park group's locations.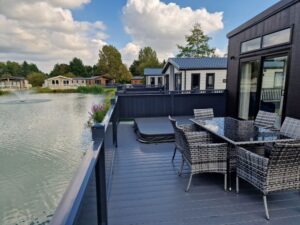 THE VIEWPOINT
Rather than a full review, we think it's better to let the pictures do most of the talking on this model, as it's truly beautiful.
However, it is built to a pretty impressive specification, yet at a competitive price for a super lodge, so there are still some
great features to flag up. A virtual tour is available online for the Viewpoint, so it's well worth hopping onto their website
for your own personal walk-through. Externally the Viewpoint is striking and looks huge thanks to the split level monopitch roof with overhang to sides and rear. The vertical composite cladding is in dark roast to the front of the lodge and granite to the rear, giving it a modern, sectional feel. Naturally, as with all Tingdene's homes this is built to BS:3632 residential standard.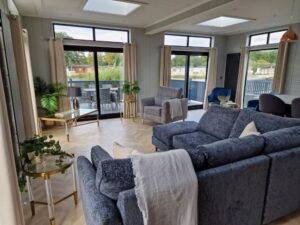 STEP INSIDE
The first thing that hits you as you step inside the Viewpoint is the feeling of space, followed quickly by the striking
interior design theme. There's a great level of luxury throughout, with feature radiators, internally clad walls and ceilings, roof lights to the lounge and dining area, chic herringbone effect flooring throughout and feature lighting. There's an inset porch to the front entrance, and on the other side of that, there's a cloakroom area with feature wallpaper and a cushioned bench with
storage below and coathooks above.A full-height dividing wall with inset bris-soleil feature separates this from the dining and living area, and that's where your eye is naturally drawn.
IMPRESSIVE LIVING AREA
This is an impressive area, and somewhat unusually, the ceiling is flat, although itis bridged by a feature beam and roof
lights on either side. With two sets of French doors to the front and windows to the side, all with additional glazing above, this really feels like a large penthouse apartment, and paired with the decking and views out over water in this instance, it is breathtaking.
You first walk through the dining area, which is stylish with pendant hive light and useful sideboard, then you're into the lounge space which has a kitchen area opposite. The seating here looks inviting and comfortable, and areas are clearly
defined within the living space by purpose, creating a relaxing vibe. There is, nevertheless, an air of formality and class and a sense of structure that shines through in this lodge and there are little touches that help deliver that, such as the way the windows are dressed and the quality of furnishings.
In addition to the lounge and kitchen zones, there's a lovely reading area next to the kitchen, and we can imagine the occupants creating a pattern of moving to and from the different zones at different points in the day, such as this reading area
for intermittent coffees and catch-ups.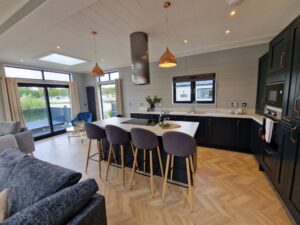 DREAM KITCHEN
The kitchen is eye-catching with arctic white marble work surfaces and upstand, and we love the copper handles and how
they match the lighting. This is particularly well-equipped and integrated where possible, with the obvious exception of
the oven and microwave. There's plenty of storage, with a tall, pull-out racking cupboard, and an under-counter wine
cooler built into the island. Yet they've got the full tally of equipment all present and correct; dishwasher, fridge-freezer
and washer/dryer so the space was designed to avoid compromise.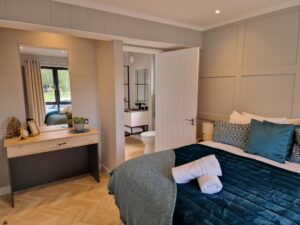 LUXURIOUS BEDROOMS AND EN-SUITES
The design theme continues in the bedrooms and en-suites, where it works just as brilliantly. In the second double
bedroom there's a feature wall with vertical wooden strip panelling as the backdrop, and a large en-suite shower
room. In the master, which has a 5ft divan, there's traditional panelling to the bedhead wall, a spotlit dressing area and
another large en-suite bathroom with both rainfall and hand-held shower.
OUR VERDICT
The Viewpoint is absolutely stunning, and the sense of space and light within it will make it uplifting to spend time in. The ground-breaking front section works well, and the contemporary yet luxurious interior design theme will have universal appeal. Tingdene have struck a clever balance with this, as it's a lodge with immense 'wow' factor and impact, but you could spec it up or down according to the park or eventual buyer's budget. It'll always sit at the super lodge end so will be a big-hitter with a price tag to match, but it could be a real winner for parks looking for something outstanding to offer on their premium
plots. We can't let Tingdene's current direction pass without comment though – we think they are on the right tracks, and will be following with interest as they roll out further new models in the near future. For now, we think they'll be
kept busy. Thankfully the Viewpoint demonstrates that while they're playing safe from a quality and service perspective, they will keep pushing the boundaries of design to offer outstanding new models to market.
IINFO POINT
TINGDENE HOMES
T: 01933 230130
E: hello@tingdene.co.uk